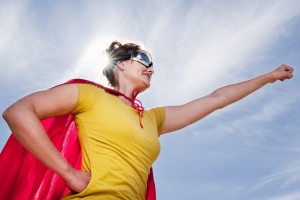 When I am with a coaching client, it is my job to focus on that client without distractions. They are often grateful for the time because they are able to focus on their own personal goals without their usual complex environments filled with distraction.
Finding simplicity in a confusing and chaotic world can be as good as a vacation. I can hear the resounding "ahhhh" now as all you readers begin to imagine your lives with less stress, less connection, less of everything. Not feeling the simplicity love? Use your superpowers.
Simplifying
The Tiny House movement is one example of how many people are feeling burdened by the trappings of what was once a lofty goal – big house to hold lots of things and more and more gadgets. And yet there is a feeling of great weight that seems to have loaded people up to the point where more and more people are sharing, dreaming and talking about tiny houses…but not living in them.
Real Simple, the magazine, strikes deep longing breaths as one paws through each page longing for less pressure, less clutter and less hassle, yet it gets stacked in a pile next to all the other interests beside the couch in a living room filled with so many children's toys one can barely move.
Software websites that once held flashing reminders to buy, buy, buy have simplified to beautifully designed simplistic pages with a small scattering of visual-based links that draw the mind into believing solutions are simple, but people are failing to purchase because the choices of similar software are far too grand and need more investigation.
Not Really Simplifying
The thing is, we want and crave simplicity, less distraction, less of all the millions of messages hitting us on a daily basis, overwhelming our senses and distracting our focus – but actions and wishes do not always match. Goodness knows, I am guilty of getting sucked into the 'always on' mentality!
Human beings crave attention – and the digital age has provided us with an attention banquet unsurpassed in history – often at the expense of giving attention to those we are with. We have at our disposal, hundreds (if not thousands) of attention getting gadgets, platforms and media to fill every minute of our day and keep from every getting anything of value accomplished.
Sit in a coffee shop and watch the throngs of people sitting with each other but all looking down on their phones. Sit in a meeting and notice how many people are actually listening compared to how many are checking phones. Notice how many people on their drive home from work are texting, talking or handling their handheld devices – in spite of legislation that tells them it's illegal.
We crave simplicity, yet we ignore the many avenues for gaining it. I find I am most successful when I drop the gadgets and start listening and doing and that requires super powers!
Use Your Super Powers for Good!
All your gadgets, devices, applications and digital connectors to your world have hidden super powers. That's right – and we are going to show you a few.
Voice Mail: For meetings, driving, paying at the till, walking your dog, getting stuff done. This little super power of your cell, desktop and home phone gives you the power to organize your life. Stop running to answer and be respectful of the people who you are actually with.
Airplane Mode: This is great for tablets, laptops, phones and other devices we may not know about. Can't get something done? Shut 'er down, my friend and finish that project.
Flag or Close Your Email: You are the hero of this story – you get to decide when you check your email and you get to decide when you will get back to someone. Prioritize who gets instant gratification from you.
Stop answering texts – hit the call button. Are you getting inundated with texts? They take time, especially if you are a slow texter. Hit the call button and call them back when you are finally alone, make it quick and answer fast.
The power button, on your T.V., computer, or any other distracting electronics. This ultimate of super un-power gives you those long craved for moments – go for a walk, soak in a tub, play with the kids – escape the time suckers.
Turn off Social Media Notifications – you don't really need to check EVERY ping and knock from your social media, it's not like it's going anywhere! Check it after a nice lunch – perhaps
You get the hint – take control, because the attention you are getting from a text, social media notifications, email, or any other distracting forces in your life is taking you AWAY from simplicity and pulling you toward loneliness and complexity.
[PostFooterP]