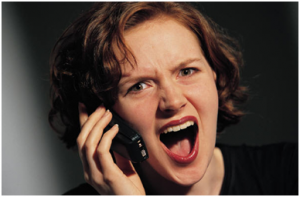 I've been focused on some good-sized client projects of late neglecting blog readers – but because I prefer content to be personally from me, client projects became the priority – glad to be back..
Today offered such a great example of how you can drive business away with apparent "streamlining" I just had to share.
CitiFinancial has been leaving automated calls at our home and does not ask for anyone but twice a day the automated voice tells us to call them at this number: 1-877-667-6152. Given there are 5 people in our household, all adults, it makes it hard to know who should call back, my spouse, me or one of our adult kids. Every person has been asked if they are CitiFinancial customers, everyone says no – so here is the scenario.
Phone call 1 – automated message
Phone call 2 – automated message
Phone call 3 – us phoning the number to see who they are calling – only to be told they cannot give us that information as it is private.
Phone call 4 – automated message
Phone call 5 – automated message
Repeat 4 and 5 daily for two weeks.
We call them – this time the person asks my first and last name – I am told that it does not match with that number in their records and there is nothing they can do.
Two more weeks of automated phone calls – twice daily.
Email to their online contact page stating that I either wish to know why they are hounding and suggest they stop. If the calls do not stop I will be calling my phone company to have the number blocked – I receive no response.
Today I received two more calls from CitiFinancial – both automated with the same message.
Today I called the number again and this time the person took the other last name that is used in this house and said it does not match with that number either. I asked if they could possibly tell me WHO on earth does match with that number and was told it was not possible to provide that information to me as it is confidential, but that they will look into it.
Steam begins to come out of my ears.
Here is how I responded – I swore at them – not a great leadership response, but definitely I had reached my limit. I told them I have done what they have asked of me, I have called them. I have done everything a good person is supposed to do to try to get down to the bottom of why my personal phone number is being hounded. I also wanted to know why the number they give me does not provide me with any information as to why I am being hounded by these ridiculous automated calls.
I will admit, I lost my temper… I said that I know this person is not personally responsible for the ridiculousness of the system under which they are working, but that I am not a CitiFinancial customer and they have ensured I never ever will be. The representative says they have no answer for me, could offer no reason for why I needed to call, and that they are not associated with the department that sends the automated calls.
She took a rotten bunch of my attitude today and remained professional. Kudos to whoever hired her, she has a terrible job of sitting blindly without information at a number to which automated calls are directing people highly annoyed with CitiFinancial. I sure don't envy her that job, and if I knew how to reach her again would offer her an apology.
CitiFinancial, your streamlining does not work… you should be ashamed of your selves.
How do you think an organization would respond if all of us called that number leaving an automated message saying "Call us at this number" not directed TO anyone, and then telling them we knew nothing about why they are calling us back… a little something to ponder…..